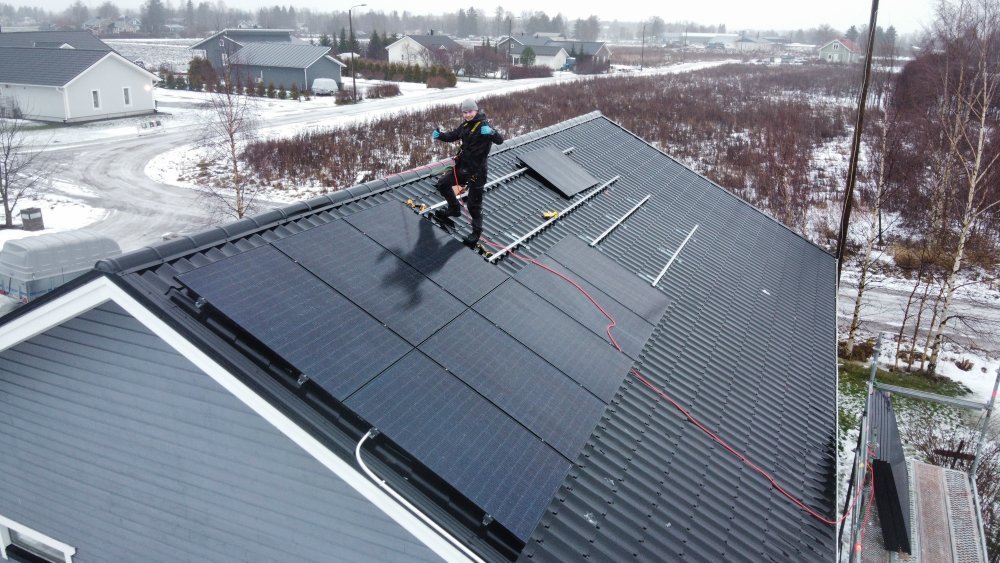 What is solar electricity, how does it work?
A solar power system reduces your electricity bill, charges your electric car, or stores the generated electricity in a battery when needed!
That's what solar electricity means in its simplest form. It is renewable, emissions-free energy that doesn't burden natural resources or your wallet too much because its production doesn't fluctuate with electricity prices. You can produce your own electricity more affordably for your single-family home, summer cottage, industrial property, or even your housing association's needs. We make this electricity production method possible for you from Vaasa to the whole of Ostrobothnia.
But how does solar electricity work?
Producing it requires a solar power system, i.e., solar panels installed on your roof, which collect solar radiation energy. Energy from the panels is transferred to an inverter device that connects the solar power system to your building's electrical system. The sun doesn't have to shine brightly, as our high-quality Tier 1 panels efficiently capture scattered sunlight, even on cloudy days.
This is how solar electricity manages the electricity production for your single-family home, and any excess electricity can be sold to an electricity company or stored in battery systems available through us, which is also an excellent option for summer cottages located outside the electricity grid.
We customize the solar power system to your specific needs and location to ensure you get the best benefits from it. Always with honest and fair service. Get in touch!
Contact us ›